JUNGLE JACS
Come on down or swing on by our very own, adventure jungle for hours of fun and excitement.  Jungle Jacs Play Center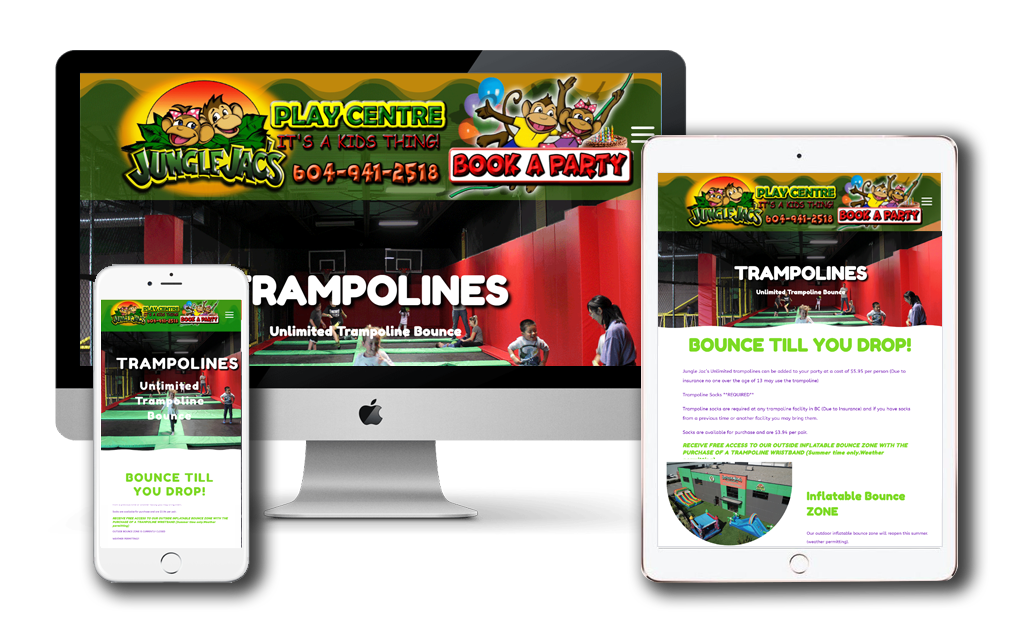 "Wow thanks for all the help
building this website was an enourmous task,  of building graphics and adding content.  And Frontline did an amazing never complaining once for the multiple changes and additions. "
JUNGLE JACS
WordPress Website
We built a creative website that is completely editable by the client.  And is just filled with photography that brings the website to life.  
Website Graphics
We are continuously changing graphics for Jungle Jacs to ensure that there website always looks current and up to date.
Print Materials
We developed print materials that they use inhouse to advertise the play center. Ad Cards, Gift Certificates and Gift Cards
Design
Logo Design, Corporate Idenity, Graphic Design, Print Material, Website Graphics and Technical Illustrations we do it all.
Programming
We build custom applications that work to improve your companies productivity.
Website Design
Web sites that are built to work on any device so that you always look good.
Marketing
We develop marketing systems that help you to get to the frontline.
Hosting
Corporate Hosting that is managed and Updated to ensure that you are always online.
Corporate Email
Email Support that is unsurpassed in the industry and servers that are always up.
Let's Work Together
Hello There, let us know how we can help?
We will get back to you as soon as we can.
Thank You.
Frontline Multimedia Team